There are different ways to use a grinder table. Wooden vintage grinder tables originate from India and are an ideal statement piece within your home; every bit is exclusive in itself. These sculptures are made out of old antique features with the initial natural lines, scars and patterns, which are taken off to grant a vintage home decor search for your home.
These authentic wooden vintage grinder tables are known as Indian chakki grinder tables. These antique hand-crafted Indian tables are a current obsession. These beautiful old Indian chakki tables are perfect for home decor nowadays.
In the last few years, these antique grinder tables turned out to be one of the most desirable pieces for vintage home decor in Singapore and London.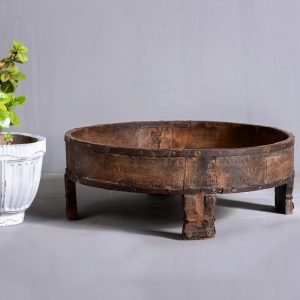 Chisel and Log have a variety of vintage grinder tables according to their colours, shapes, quality and kind of woods. Indian furniture has gathered appreciation throughout the globe, and the grinder table is one of the biggest reasons behind that.
These vintage grinder tables in Singapore are hand-driven and were used by Rajasthanis to grind grains and spices. These tables were commonly called chakki in India. For centuries, grinding, which was hard and noisy work, was carried out by women only.
Here are ways to use a grinder table

:
India vintage grinding table frequently changes places from a grain grinding table to a serving table, where it is serving as a low coffee table while imparting a traditional Indian look to your space. Simply by adding a glass top and some beautiful carving and weathered wood to the chakki, make them their own customized coffee table.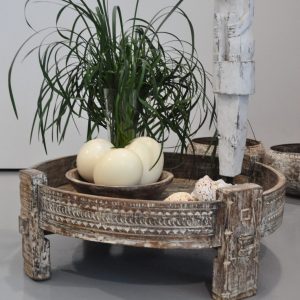 Authentic Vintage Indian wooden chakki tables are perfect for placing as a side table in the living room. It needs nothing to make it shine. Their uncanny and carving details tell a unique story and add a classic look to the area. Bring a piece of history into your home with our vintage Indian grinding table in Singapore. It can be used as an accent piece for your home by putting candles and books on it.
Cushioned seat
Just adding a round cushion to your grinder table creates a low ottoman in your house and creates additional space to relax and spend your evenings. Its natural colours and textures add warmth and interest to the space.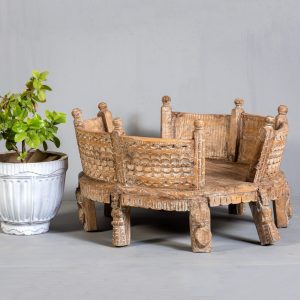 Check out Chisel and Log's new decor grinder chakki pieces. We hope you love it as much as we do. We have so many new, gorgeous, quality chakki tables that are perfect for a coastal or modern home.